Torrance Real Estate Report - 1st Qtr '17 vs. 1st Qtr '16
Torrance home prices went up by 4% in 1st qtr 2017, when compared with the same period 12 months ago. So the headline could be - Torrance homes prices continue to rise. It's certainly a good news for the home sellers, not so much for the buyers. Below is the full quarterly report.
Average selling price went up from $634,623 in the first quarter last year to $657,623 this year - 4% price increase y-o-y. Interest rates remained very low, around 4%, helping home buyers and investors. Low inventory of available homes for sale in Torrance CA continued to put pressure on prices, limiting the number of sales. Below I provided the stats and graphs to illustrate the Torrance real estate market, price trends, inventory in detail. As of today, there are 171 homes on the market in Torrance. The lowest home is listed at $189,000 and the highest at $2.49M, average listed price - $714,615. This illustrates the wide range of homes for sale in Torrance, from the ocean view Hollywood Riviera houses to entry level condos.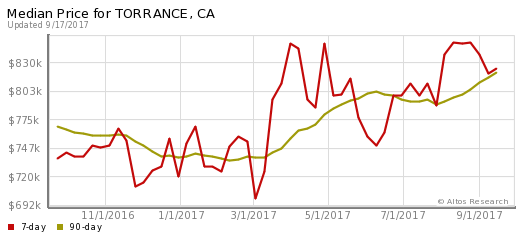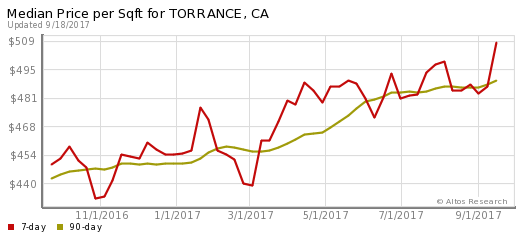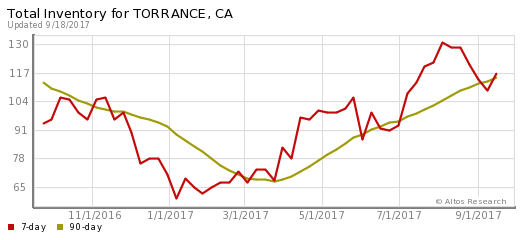 Torrance Real Estate Market Report Summary
Total of 260 homes sold in Torrance CA in 1st Qtr '17 compared with 257 sold a year ago. Average sale price was $657,378 compared with $634,623 12 months ago, which represents a 4% price increase. The lowest sold price was $184,000; the highest was $2M. Average DOM (days on market) was 34 days compared with 55 days.i
Real Estate Statistics as of today 4/7/17
| | |
| --- | --- |
| Total Listings: | 171 |
| Average Price: | $714,615 |
| Highest Listing Price: | $2,488,000 |
| Lowest Listing Price: | $189,000 |